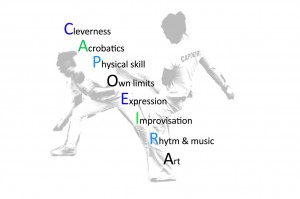 CAPOEIRA is all this and much more, but within your own boundaries – want to try to push them a bit?
So, if you like in your life a bit of fun and thrill, why not practice some new skill…?
You´re most welcome to try – right in the beginning of 2019….
Place: Q-talo (next to the Eastern side of student village)
Address: Nummenpuistokatu 2
Time: Mondays at 18.30-19.30
14.1. 21.1. 28.1.4.2. 11.2.
Price: 23 euroa
Language: Classes will be held in English/Finnish, depending on participants
Warm welcome to have lots of fun & challenge yourself!!!
More info: Sonja Gilbert
e-mail: sonyle(at)utu.fi tel: 0405378834